The April 2010 releases have been published on the Groove blog, my wallet is safe and sound although I do quite like the wig of the Dal. From what I've read about her before, she's one of the Korean mythology dolls, like Mir.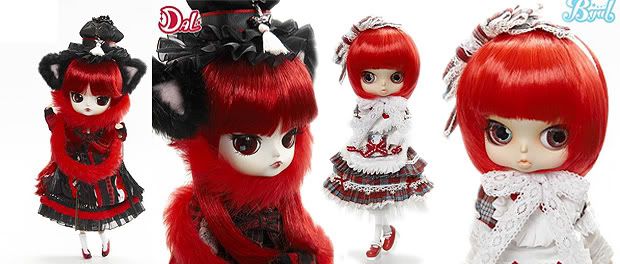 Groove calls her Asian goth Tina, and comments on her character stamped eye chip like this XD
The right eyes of the "cat" Brr … mysterious character
While I kind of like her outfit, I've found out why I can't seem to warm up to the Byuls; it's their stare. I've yet to see a Byul where you can actually get some kind of eye contact..!
Speaking of eyes, the Dutch Pullip dealer "Shimmering Magic" has posted several closeups of the February/March dolls (browse to the left in their photostream for more), which may be of interest to those of you who still haven't made up your minds about them. The faceup of the Hellcatpunks dolls actually aren't all that bland when you get a close look at them, at least not the Dal (soooo getting her!) and the Tae.
The April Pullip is called Shanria, and is supposed to be dressed for a celebrity show or like a celebrity (I can't quite get a grasp of the text). I see nothing I want in her – although, if I get her for a reasonable price nude/bald from the second hand market, there is a chance she could fill the void that Isolde is leaving (because there's no way I am paying $800 for a Pullip..!). She does resemble Isolde faceup wise, doesn't she? (and Naomi too, I reckon..). The price of the April releases seem to be in the $116+ area.
My last piece of news for today is about the energetic new doll company/collective dollb. In a short time, they've managed to mark their position when it comes to making stuff for tiny BJDs – cute shoes and accessories (panties, stockings, socks) – for a reasonable price, and recently even more elaborate clothing, like pants, dresses and fullsets. In addition to their main website, they have a really clever "extra" website where you can browse their creations with just a few clicks. Yesterday, they posted pics of their own tiny BJD in the making! S/he is the same size as Lati Yellow/PukiFee, and looks really promising. When the face is this cute even without faceup, I am quite anxious to see the final result!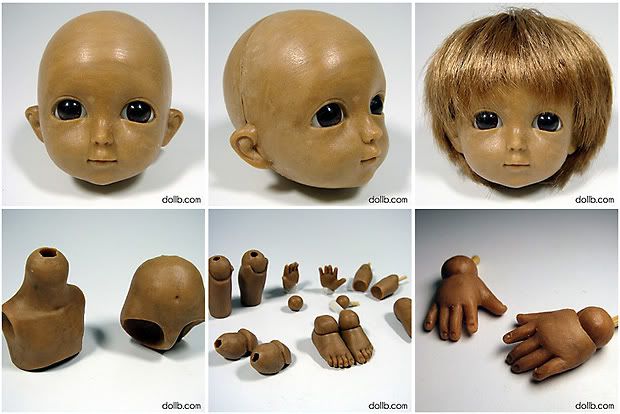 I am also curious to learn whether they will release the doll as a fullset with accessories, like Ixtee's "Mui-chan", and if so – will s/he compete with Mui-chan in regards of quirkiness? Or will s/he become more of a cutesy Lati/Volks copy? I really hope they release the doll as a basic body/head combo, and not just fullsets. I also hope s/he will be as affordable as the other products they are offering. Mui-chan sadly looks like she'll be outside my comfort zone, price wise. Ixtee seem to be targeting the Blythe crowd, and they're used to shelling out, I guess.